Given that pressure is a correlary of density, light will bend as it passes through different pressures. If you can somehow observe this bending, then you can see pressure changes. This is the core of classical schlieren imaging. Unfortunately, this technique requires a complex and precisely tuned setup of large parabolic mirrors.
There is a derivative of schlieren imaging called background-oriented schlieren. This technique is much more feasible to set up. In this project, I used background-oriented schlieren to visualize the airflow and density differences around a candle.
methods
In background-oriented schlieren, a textured background is placed behind the subject and is imaged. The camera and background are stationary, so if there were no disturbance, the background would appear identical from frame to frame. However, if a density difference is introduced, the light traveling from the background to the sensor will be bent in the areas with a pressure change. In the image, it will appear that the background has shifted/warped in the areas of a density disturbance between frames. The sequences of images can be processed to find the direction and magnitude of background movement. This motion will reveal the density differences.
For my test, I created a pattern of random dots on a sheet of paper as a background. The contrast of the dots makes it easy to see where the background shifted. To visualize density differences in air, I held a flame between the camera and the background.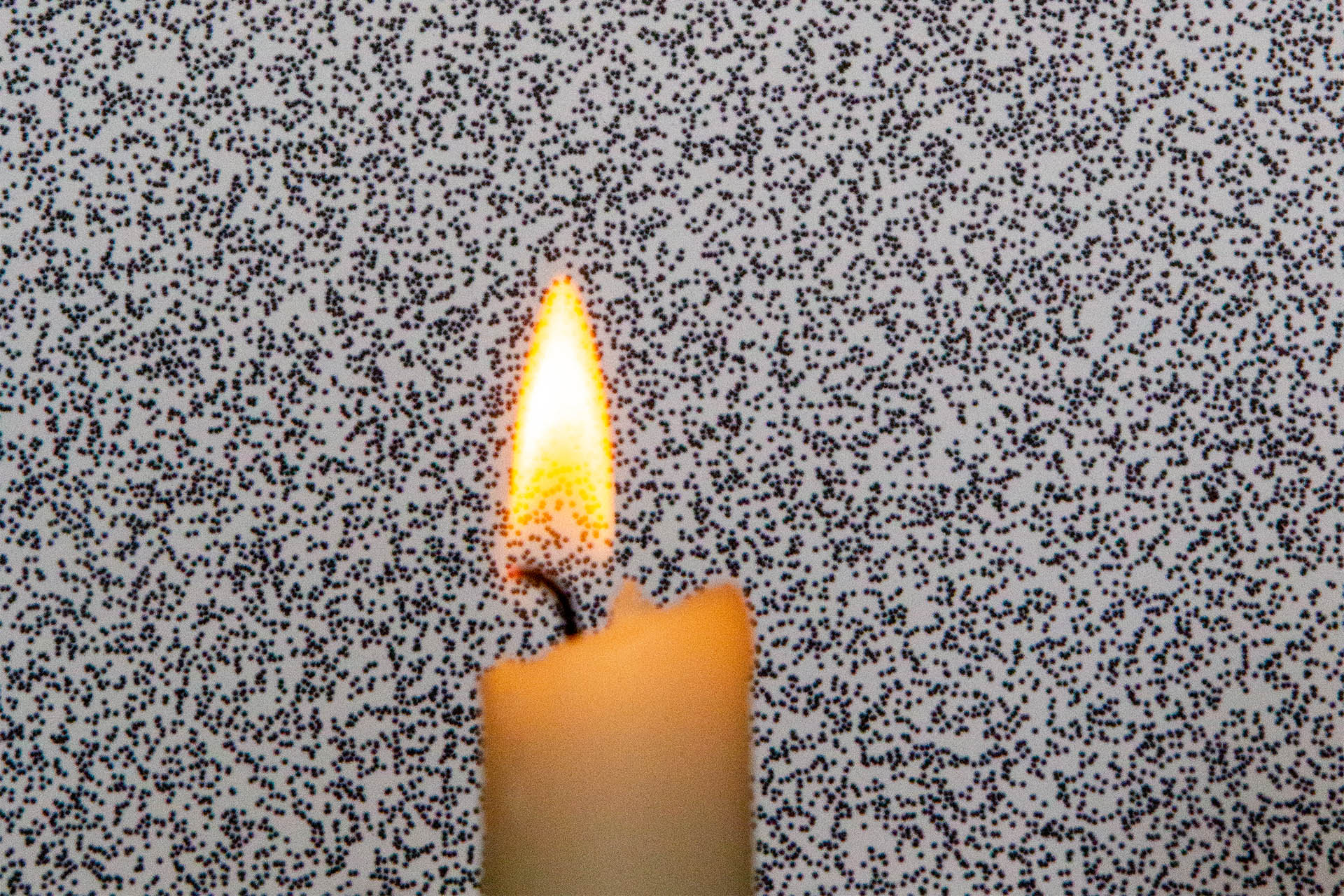 I took a 60 fps video of a moving a flame in front of the background. I extracted the frames as images, and analyzed them with PIVlab. PIVlab is a fluid dynamics tool meant for tracking the motions of particles (particle image velocimetry), and I can't recommend it more highly. Though it requires MATLAB to use, the quality of a free software package was amazing.
PIV software is well-suited for my purposes as the background appears as particles, and I need to find the relative motion between frames. I removed the region where my lighter and hand were captured as that interfered with the analysis.
results
When looking at sequential frames from the setup, you are able to observe the background shift just slightly in regions with hot air. This movement is then captured by PIVlab, and motion vectors are plotted on the image.